VPC MongoosT-50CM3 Throttle - VIRPIL (BACK ORDER)
Frete grátis
VPC MongoosT-50CM3 Throttle

- VIRPIL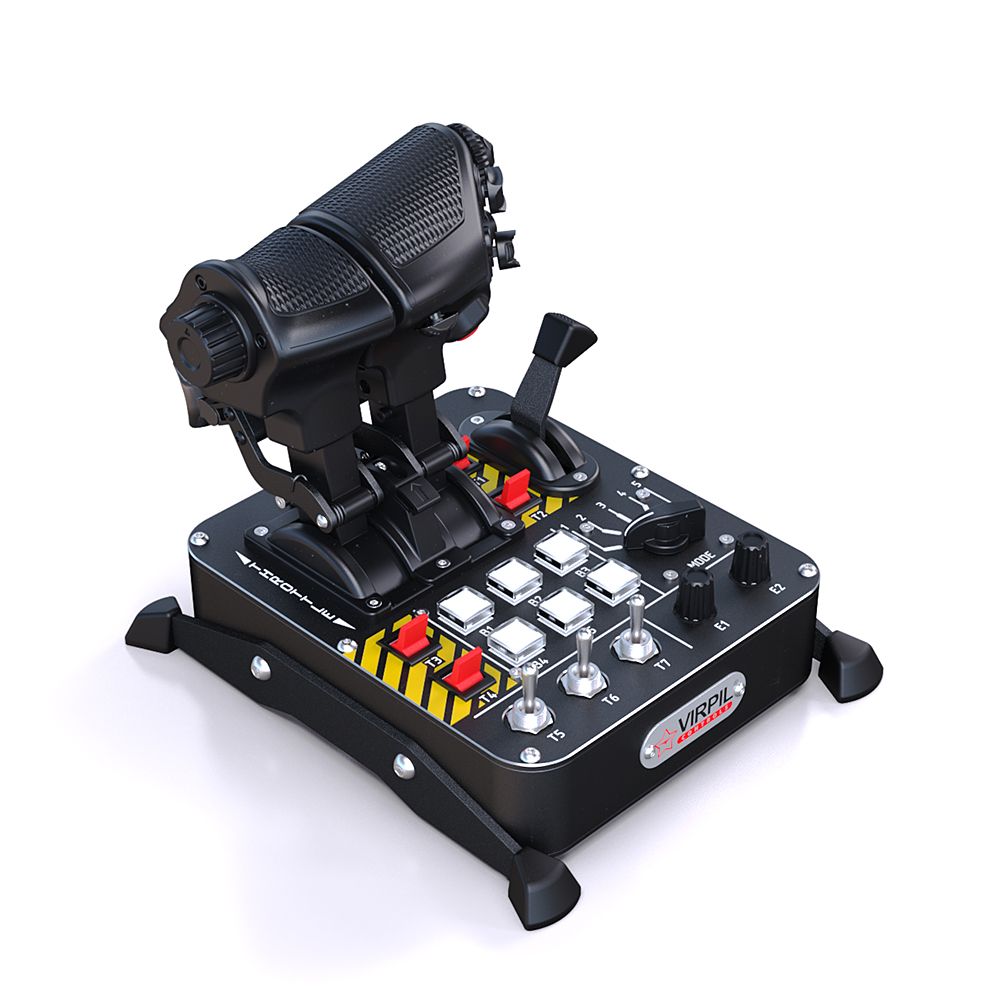 VPC MongoosT-50CM3 - Throttle Control System
The VPC MongoosT-50CM3 Throttle is the newest generation of our popular VPC MongoosT-50 Throttle design. Designed to integrate into every VPCockpit control set, it can also be used as a stand alone throttle unit.
As with our flightstick base units, the internal mechanics are constructed from high precision aircraft-grade duralumin which offer tension adjustment (accessed internally) and use our high precision, digital contactless VPC sensors.
The MongoosT-50CM3 Throttle now includes our brand new detent system. Controlled via all-metal finger-lift levers, the detent system can be adjusted via quickly interchangable detent plates to create the perfect setup no matter what you're flying!
Included Detent Sets:
★ "Classic" Detents - Lift to pass detents, push return.
★ "Classic Plus" Detents - Lift to pass detents, push return but with an additional tactile bump immediately after crossing the detent range.
★ "Warthog-Type" Detents - Lift to pass and lift to return detents.
★ "Aerobatic" Detents - Push through and push return detents.
★ "CosmoSim" Detents - Push through central detent.
Featuring 6 x LED momentary buttons with a transparent cap which can be removed to insert your own button inlays - perfect for labelling your controls!
There is now our detachable USB and AUX connection points which will allow daisy chaining with other VPC devices such as our VPC Control Panels for simplifying your setup.
The full feature set includes a huge number of controls surfaces and configuration possibilities that will surely satisfy even the most avid of virtual pilots!
Throttle Base Panel:
★ 6 x Customisable Momentary Buttons
★ 3 x Momentary Toggle Switches (ON-OFF-ON)
★ 4 x Latched Toggle Switches (ON-ON)
★ 1 x 5-Way Mode Dial
★ 2 x Encoder Dials (+ Push)
★ 2 x Throttle Axes (VPC Contactless Sensors)
★ 1 x Auxiliary Axis (VPC Contactless Sensor)
Throttle Handles:
★ 1 x 8-Way Hat (+ Push)
★ 3 x 4-Way Hat (+ Push)
★ 1 x 2-Way Hat (+ Push)
★ 1 x Encoder Dial
★ 1 x Encoder Dial (+ Push)
★ 4 x Momentary Push Buttons
★ 1 x Slider Axis
★ 1 x Analogue Ministick (+ Push)
** Prazo de Entrega de 25 a 40 dias úteis.