FA-18 THROTTLE COMBO BASIC(SUPER TAURUS) WINWING - Disponível para Pre-Order
Frete grátis
FA-18 THROTTLE COMBO BASIC(SUPER TAURUS) WINWING - Disponível para Pre-Order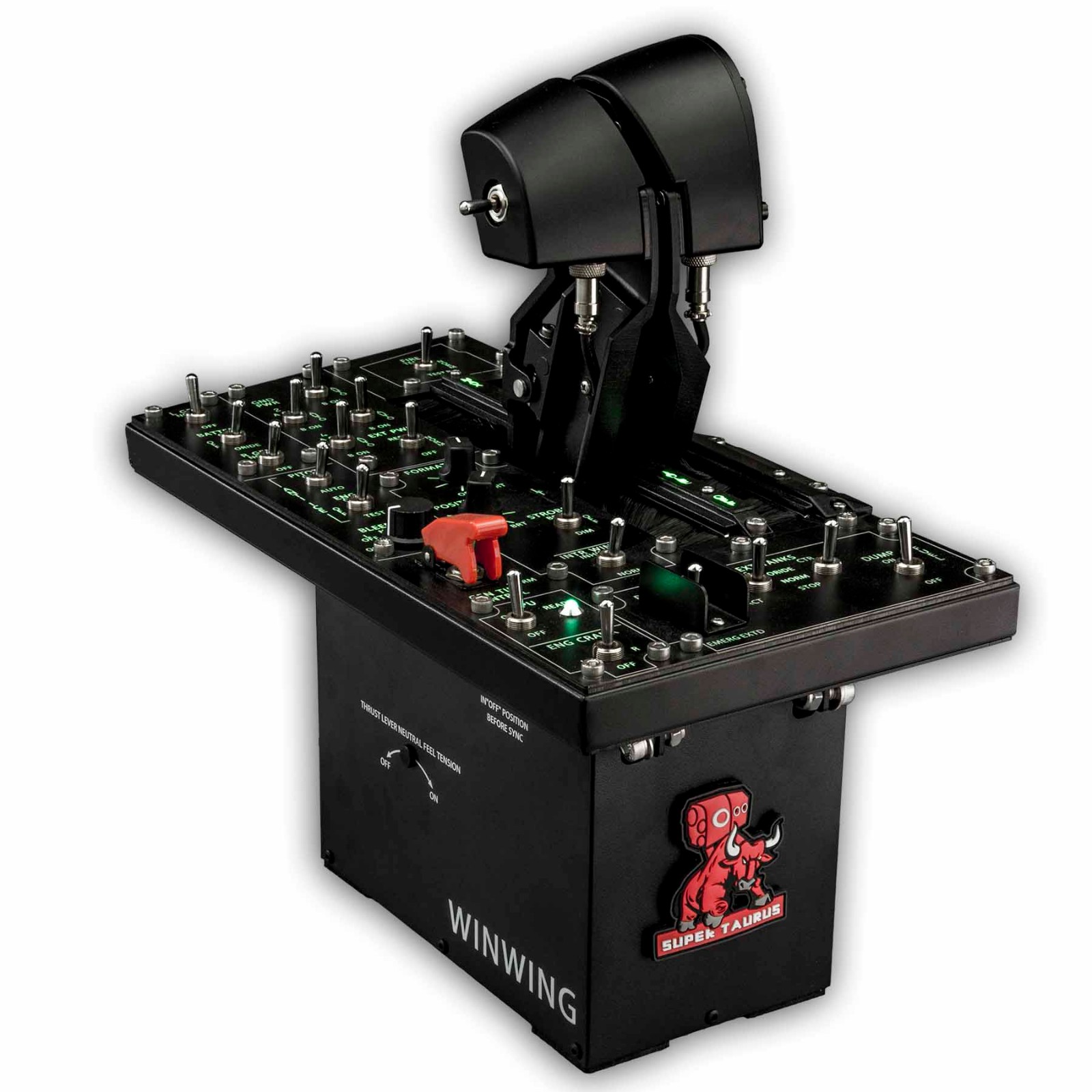 You can not find such monster like WINWING SUPER TAURUS THROTTLE BASE before 2020, its full tranvel distance make micro control of throttle possible, formation or refuel not difficult anymore!
95% Metal made(Aluminum construction +Stainess steel AXIS and other stressed parts).

Hall sensor for both L/R throttle axis.

288mm travel distance.

Friction adjust lever.

10bit axis for Friction adjust lever.

Finger lift for IDLE and Afterburner detents.

Thrust lever neutral feel tension adjust.

Thrust lever sync.

Adjustable back light.

Perfect for mounted/Cockpit/Game chairs setups.

Changeable for Single/Dual Engine Handles .
As 1:1 scan surface of real F18 panel, the WINWING F/A-18C FLIGHT OPS PANEL make VR control without view possible, if you want to binding yourself, you will found there are much more buttons than ever before! If still not enough for use, WINWING TAKE OFF & COMBAT READY PANEL coming soon...
2 x Axis.

6 x (ON)-OFF-(ON) Buttons(Auto Center).

7 x ON-ON Buttons.

6 x ON-OFF-ON Buttons.

1 x ON-OFF-(ON) Buttons(Single Auto Center).

1 x 4 Position Rotary Switch.

1 x Green LED Indicator.

Adjustable back light.
The WINWING F/A-18C THROTTLE HANDLES are low inertia ALUMINIUM made, which means they are strong but very light when control, no matter which base you use, when you want it move, it will move without detention, when you want it stop ,it stop immediately!
Buttons/5way switches/9way switches/Triggers are new design, not like something design in beginning of 2010 ,they have long tranvel distance/ sound crisp / clear force feedback. Never touch something feel so real before 2020.
Aluminum made construction.

2 x 4-Way Hat (+ Push), could be set as 3 x 8-Way Hat(+ Push) in software.

1x 3 Position Button

1x mini JOYSTICK(Analog)+Push Button

1x Wheel Axis Hall Sensor(AUTO CENTER)

3x Momentary Buttons.

1x Switch
THROTTLE DESK MOUNT IS NOT INCLUDE IN THIS COMBO
Prazo de Entrega (de 25 a 45 dias úteis)