Simulador Profissional Kit - Simucube 2 Pro + Cube Controls Formula Pro + Pedal Heusinkveld Ultimate+ . (Cockpit Opcional)
Frete grátis
Simulador Profissional - WheelBase Simucube 2 Pro + Cube Controls Formula Pro + Pedal Heusinkveld Ultimate+ . (Cockpit Opcional)
WHEELBASE SIMUCUBE 2 PRO

Simucube 2 é a base de roda com feedback de força Direct Drive de classe de referência mundial.
O Simucube 2 foi construído em torno de um motor industrial de precisão de grau de robótica, eletrônicos e software fundidos para formar um design monolítico perfeito. Tudo é otimizado para desempenho no nível mais alto e com latência inferior a um milissegundo.
O acoplamento mecânico rígido da roda é o requisito fundamental para o acionamento direto. O Simucube 2 foi feito para atender a esse requisito, mesmo que isso significasse redesenhar tudo. Simucube Quick Release ™, SQR, tem barra invertida zero adicionando artefatos de torque zero. Quando travado, é igual a um eixo de metal sólido, exatamente como deveria.
Simucube 2 trabalha com jogos simuladores e reconstrói o ambiente autêntico. Graças ao processador dedicado do Simucube 2 para controle do motor e outro para interface com o simulador de PC, a latência ultrabaixa é estável e consistente. Com o premiado processamento de reconstrução de força do Simucube, modo de latência ultrabaixa e filtros dinâmicos ajustáveis, o Driver pode alcançar o Realismo.
Depois de experimentá-lo, não há como voltar atrás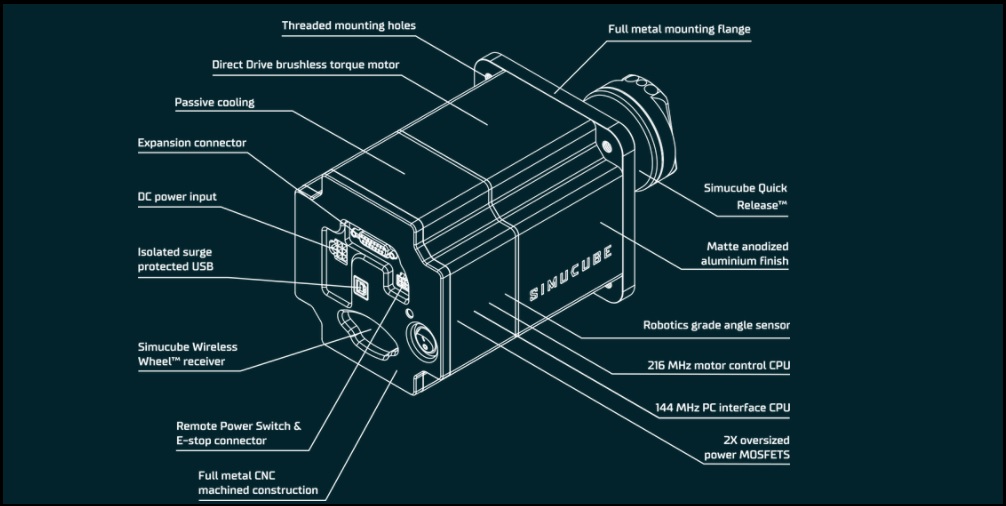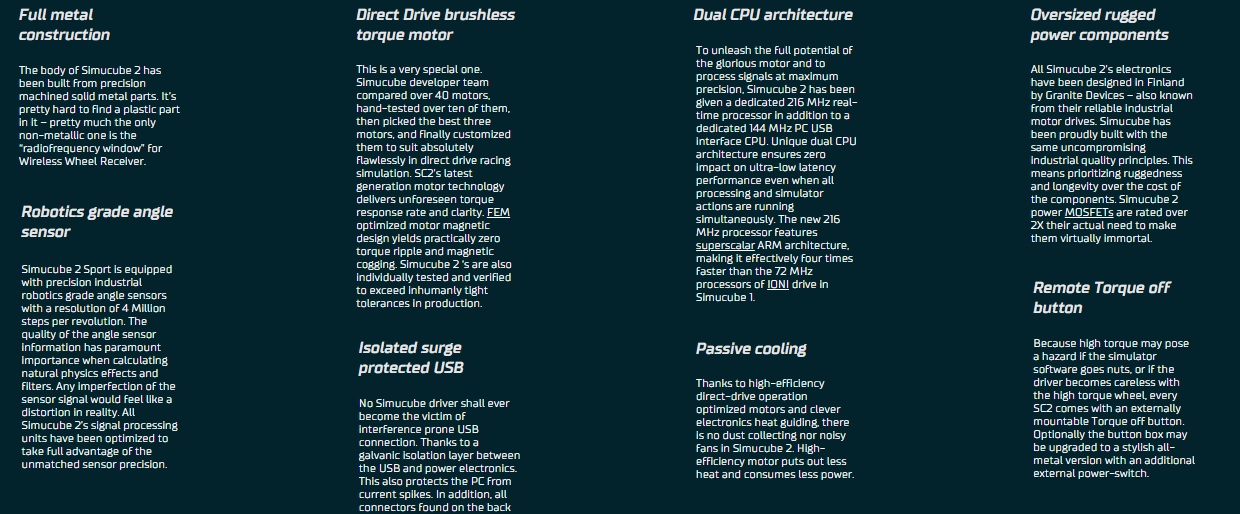 Simucube 2 Pro - Especificações Técnicas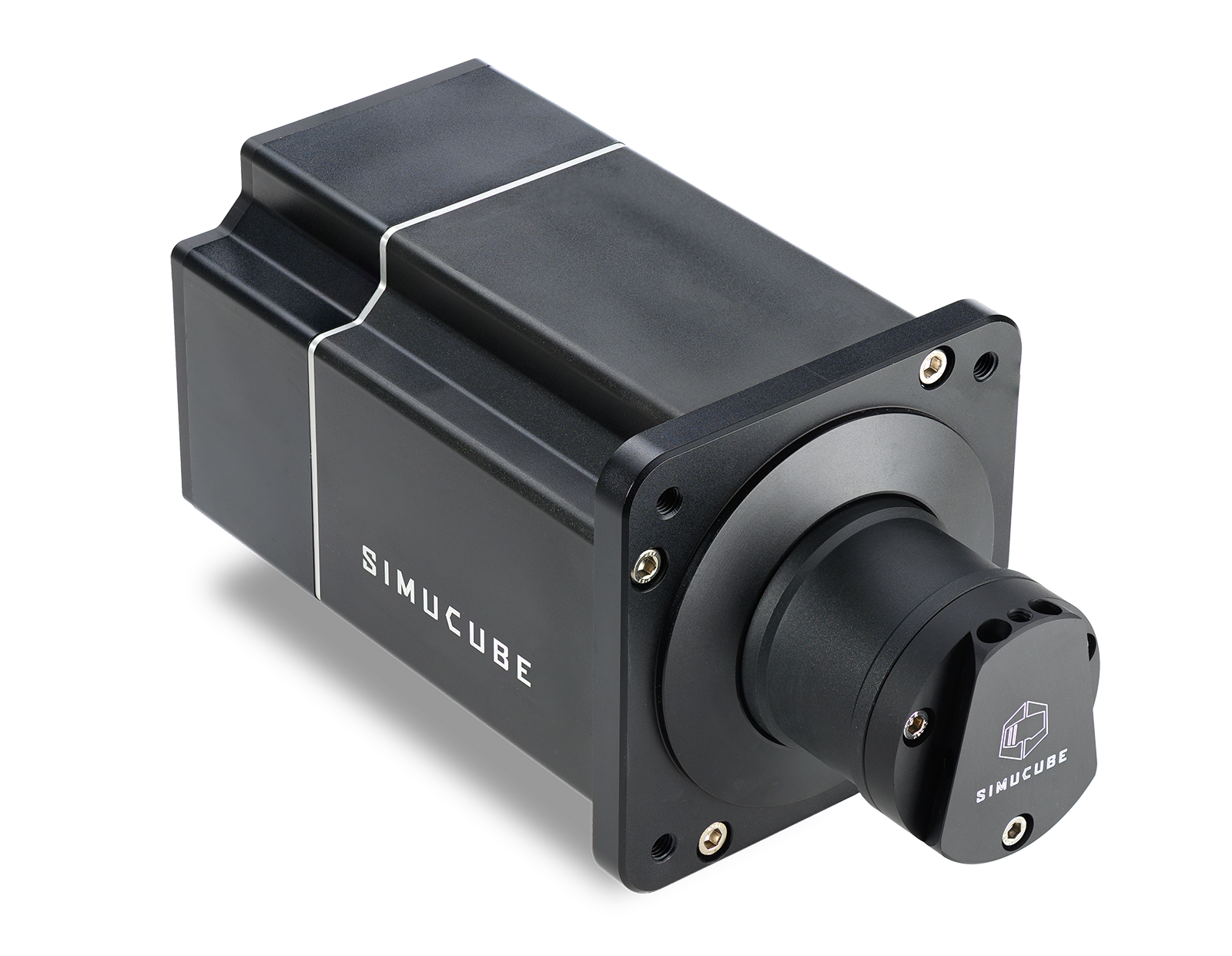 25 Nm de torque é suficiente para uma profunda imersãocom qualquer pista, carro e condição. Com a Simucube 2 Pro pode ser que você esqueça que está em uma simulação.
Combinado com a excepcional a taxa de resposta do motor de alto torque, Combined with exceptionally high torque response rate Pro motor, as torções mais nítidas serão entregues com uma clareza jamais vista em um Direct Drive antes. Taxa de resposta do torque é ajustada de acordo com a preferência do piloto.
Simucube 2 Pro foi criado para ser um novo padrão ouro de bases Direct Drive.
| | |
| --- | --- |
| Simucube 2 model | Pro |
| Simucube Wireless Wheel™ support | Yes |
| Simucube Quick Release™ | Yes |
| Torque reconstruction processing | Yes |
| Static force reduction | Yes |
| Natural damping, inertia and friction filters | Yes |
| Ultra low latency mode | Yes |
| Adjustable torque slew rate limit | Yes |
| Non-linear force saturation | Yes |
| Super Fine tuning filters | No |
| Factory calibration | Multi torque cogging + ripple |
| Max torque | 25 Nm |
| Max torque slew rate | 8.0 Nm/ms |
| Angle sensor resolution | 22 bit |
| Torque Off button | Standard (premium optional) |
| Power supply | 2 x 280 W |
| Physical size | 130 x 130 x 270 mm |
| Fixing holes | M8 x 4 pcs |
| Screw bolt pattern dia | 145 mm |
| Flange centering hole dia | 110 mm |
STEERING WHEEL (VOLANTE) FORMULA PRO - CUBE CONTROLS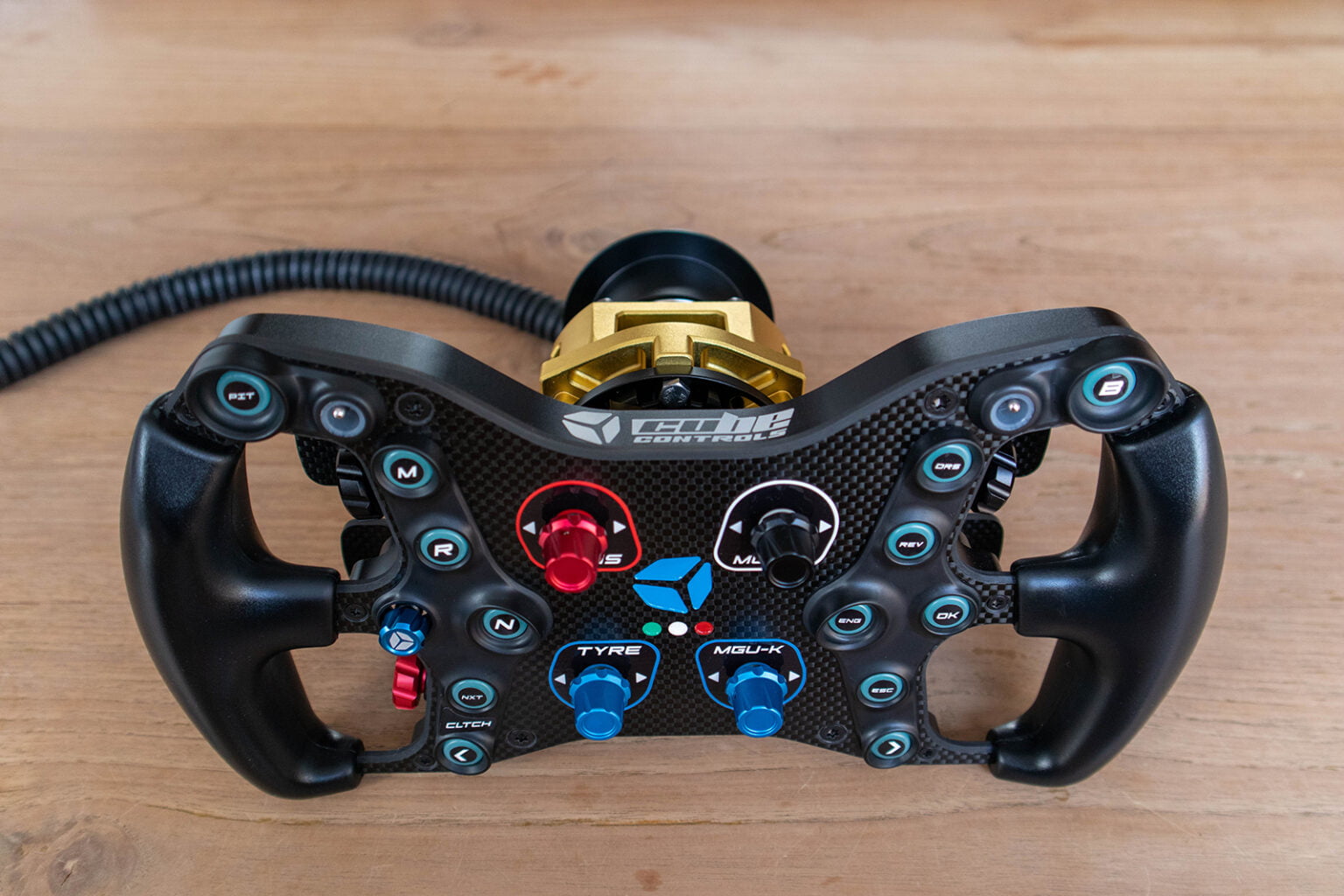 Elevate your sim racing experience with the updated Formula PRO.
Built for racing eSports enthusiasts, the Formula PRO is the perfect option for those who are looking for cutting-edge controllers.
Updated layout. Stronger materials. Rock solid electronics
Featuring an aluminum joystick and knobs. Backlit buttons. Adjustable magnetic paddle shifters and clutches. 100% Carbon Fiber front plate. CNC machined aluminum mainbody.
USB cable and set of stickers included.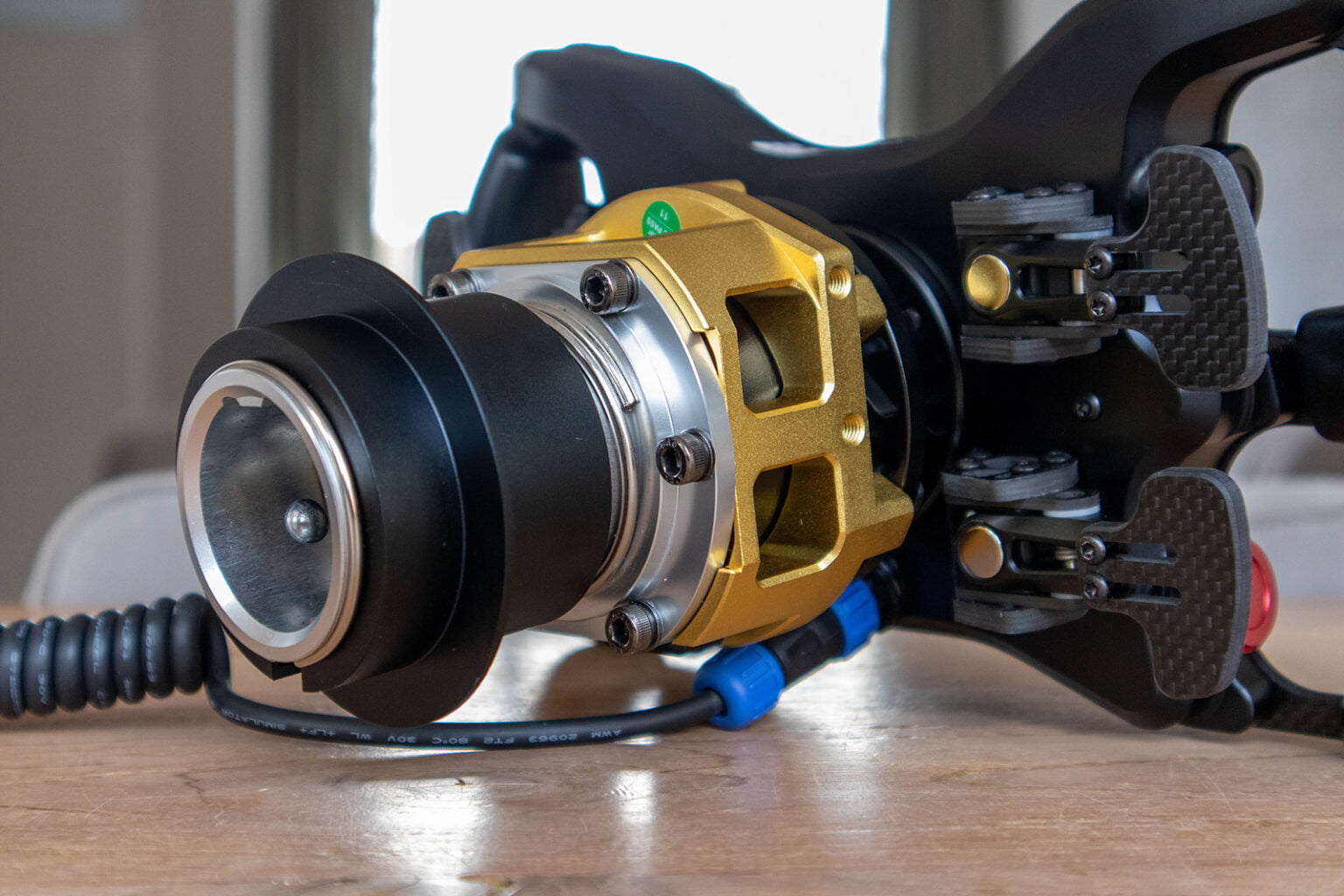 CNC machined aluminum joystick knob
13 momentary buttons, two of them with a "toggle" flashing led indicator (useful for pit limiter, neutral)
Grip-to-Grip wheel length, 28.2cm
Grip max diameter, 45mm
Straight back USB Connector
Backlit buttons
Two on/off toggle switches with status led
4 front rotary encoders, two "thumb" rotary encoders
Multi-directional joystick with integrated encoder
Zero play short-throw custom-designed magnetic switchless shifter paddles and clutch levers
Launch control clutch system
Pure carbon fiber front plate
Billet aluminum CNC machined main body
Elastomer molded grips (via Cube Controls proprietary Technology)
All aluminum parts are CNC machined and anodized
Wheel hub compatible with all formula-style quick release hubs (3 bolts, 1-inch PCD and 70mm PCD)
Weight: 980 gr
VR friendly
Compatible with Thrustmaster, Logitech, AccuForce, Fanatec and SimuCube 1&2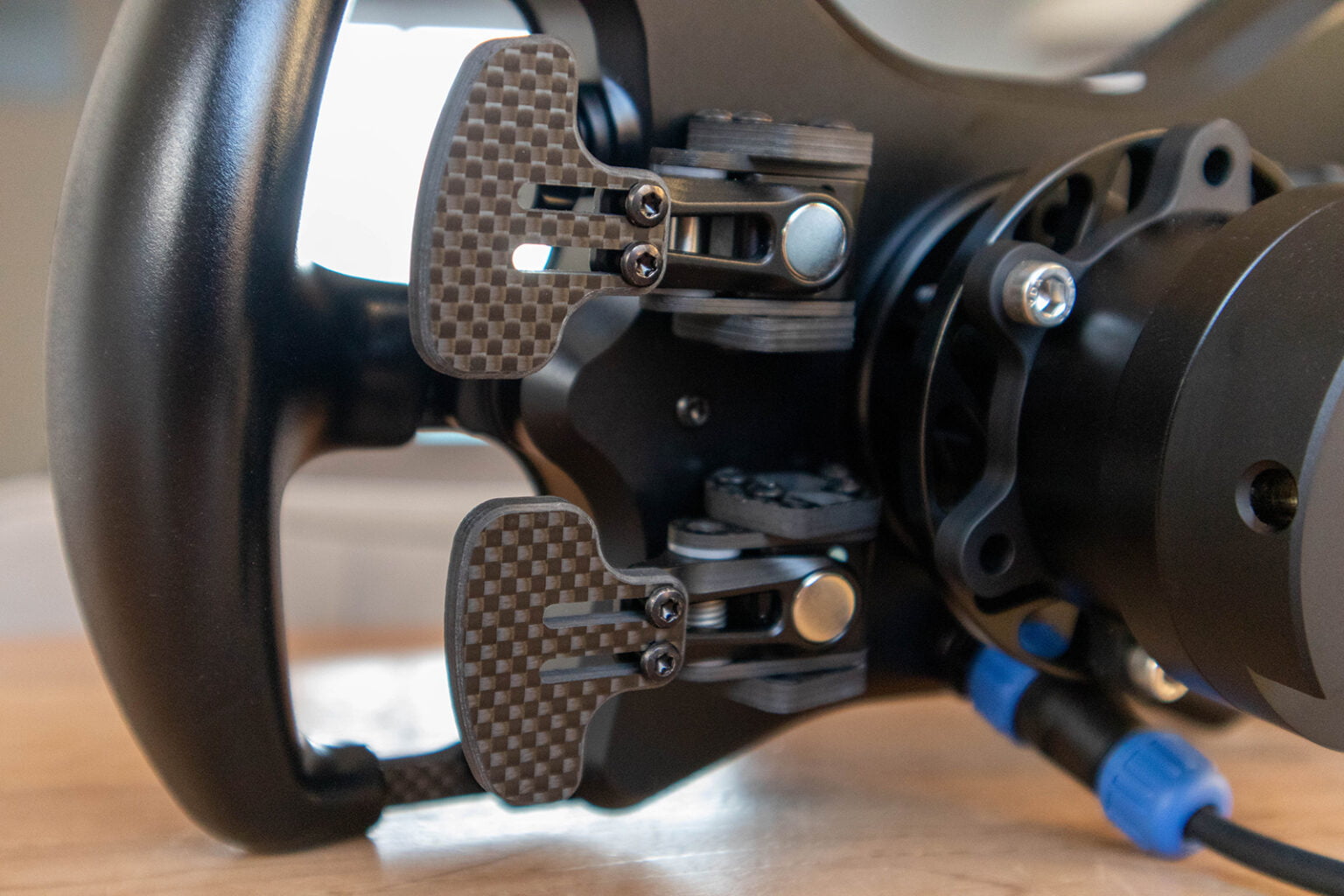 PEDALS HEUSINKVELD ULTIMATE+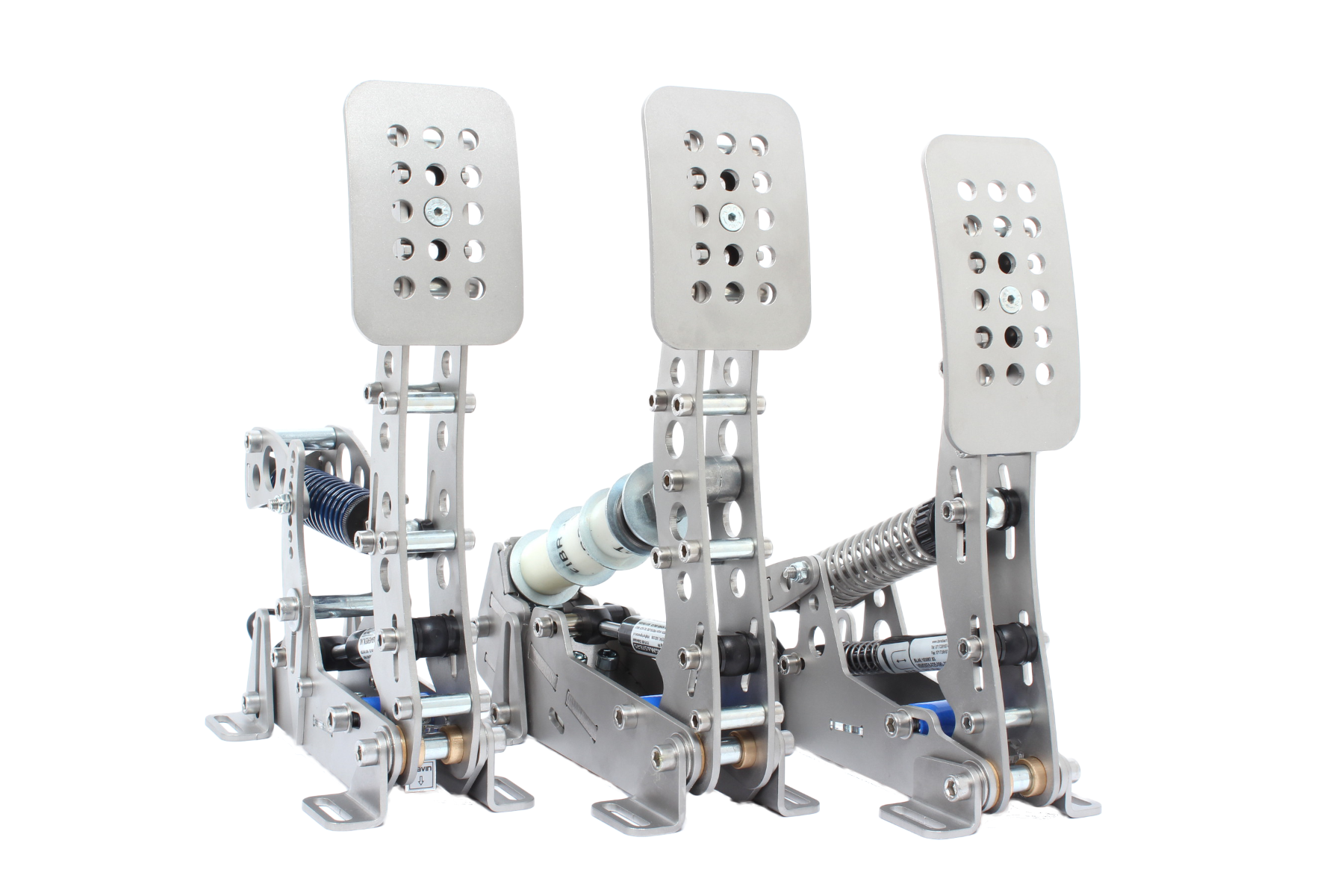 ENGINEERING
Designed with CAD and FEA, all structural parts are CNC precision laser cut stainless steel. The pedals are strong, stiff, compact and durable. Mathematical models were made to calculate pedal travel and operating force, predicting with great accuracy how each pedal feels in all of its many different configurations. Design tolerances have been optimized in order to have a minimal amount of unnecessary play.
All stainless steel metal profiles are bead blasted with glass beads before assembly. This results in a high quality semi-gloss metallic look with a minimum of sharp edges.
Load cells measure throttle and clutch position and brake pressure. Unlike designs with rotary potentiometers, load cells provide true linear output in relation to your pedal input. Their accuracy and durability are unmatched as they do not wear over time.
Custom developed 12bit USB electronics make sure each pedal responds instantly and accurately in your favorite simulator software. Travel is adjustable from 10° to 20° on the throttle and from 14° to 24° on the clutch. All end stops are 'soft' for a quality and neighbor friendly sound and feel.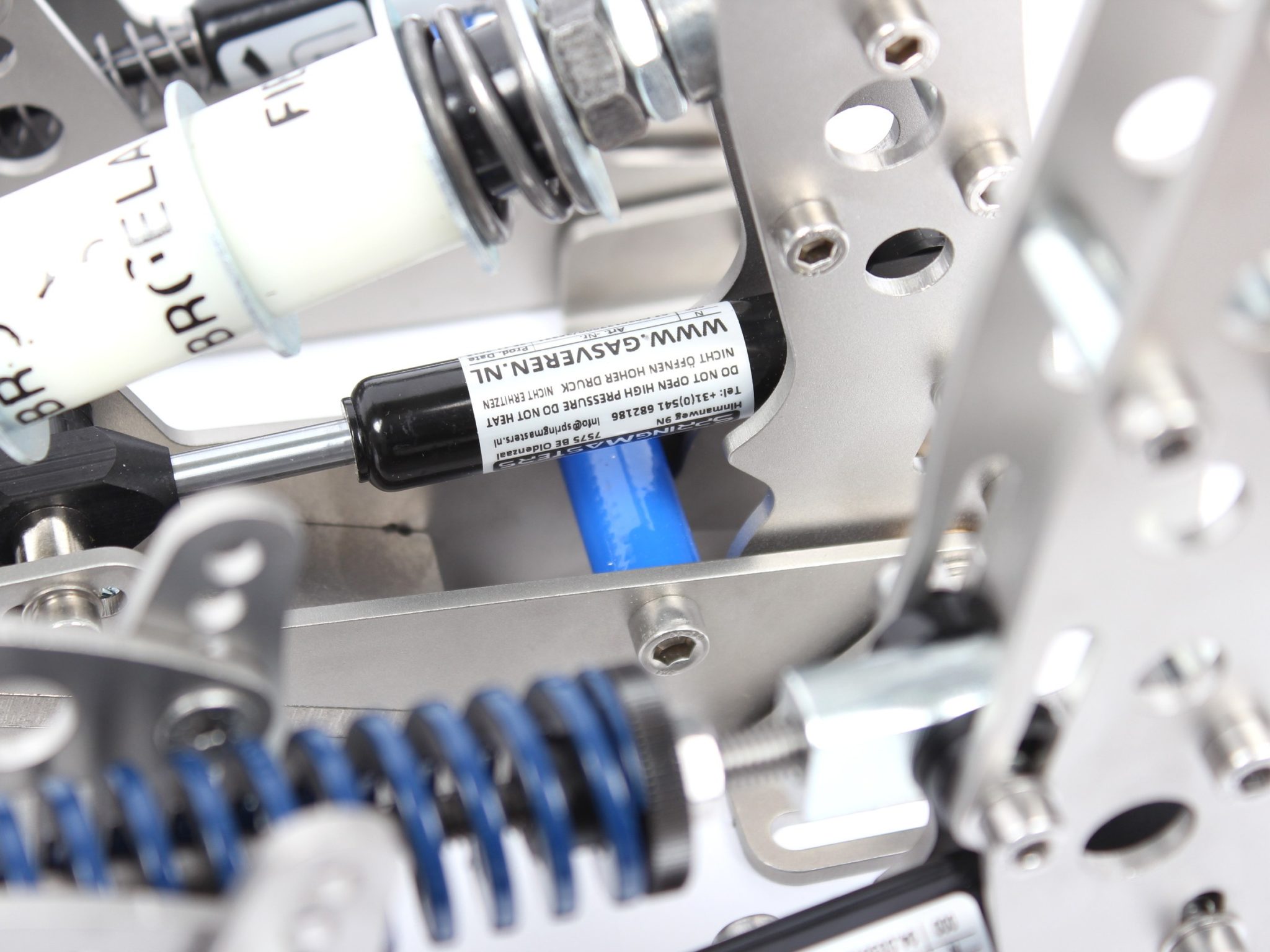 HYDRAULIC DAMPING
The Sim Pedals Ultimate are a full-hydraulic pedal set: All 3 pedals feature an adjustable hydraulic damper. As pedal assemblies in real cars have hydraulic flow through hoses, tubes and cylinders, we use these to simulate the damping effect that these assemblies normally provide.
The brake and the clutch both feature a 2-way damper. This damper adds resistance depending on how fast the pedal is pressed or released. The throttle pedal features a damper which resists speed at the ingoing stroke. This helps with smoothing the throttle application and it is also used on some real race cars for this purpose. The resistance of all dampers can be adjusted.
The hydraulic system of the Sim Pedals Ultimate has proven to be ultra-reliable and does not require periodic maintenance. Even in the unlikely case of a failure, all hydraulic dampers can easily be removed while the pedal still retains its basic functionality as the pedal sensors are separated from the hydraulic circuit.
COMPONENTS
Throttle
Smooth, accurate and greatly adjustable, the throttle pedal gives you excellent control with exactly the travel, pre-load and spring stiffness you prefer.
Brake
The dual stage brake system consists of an initial coil spring, simulating the pad to disc gap and progressive rubber springs. The pedal firmness is adjusted by selecting from 10 different rubber stack heights. With 136kg or 300lbs max force, this pedal easily requires 36x more effort than regular consumer grade brake pedals. Braking using muscle memory improves accuracy and consistency.
Clutch
Clutch pedals often get lighter towards the end of their travel. The Heusinkveld Sim Pedals Ultimate feature a regressive spring mechanism allowing you to greatly adjust the effort, travel and feel. The maximum pedal effort of 45kg or 100lbs is again far greater than that of regular consumer grade pedals, but lighter settings are easily selected.