FANATEC GRAN TURISMO DD PRO PREMIUM (8NM) - PS4/PS5/PC/ - 12.910,00 A VISTA NO PIX.
FANATEC GRAN TURISMO DD PRO PREMIUM (8NM) - PS4/PS5/PC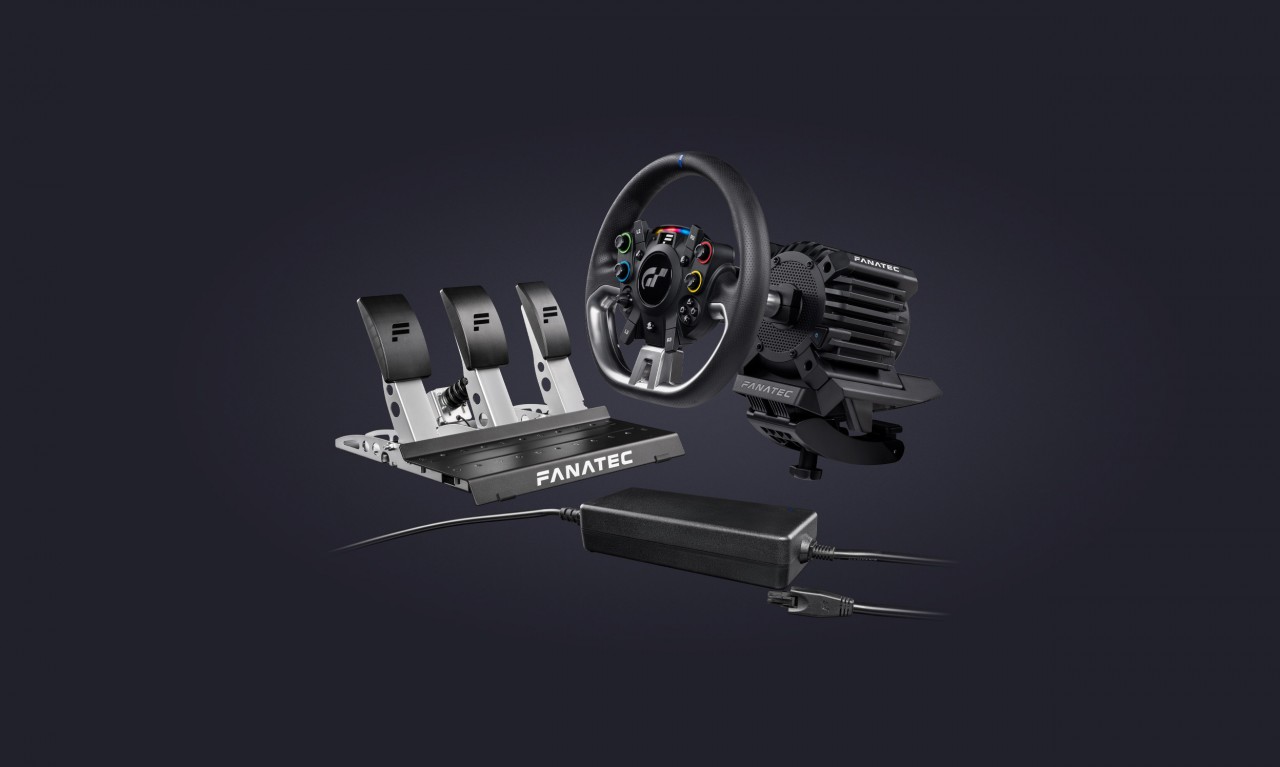 Gran Turismo DD Pro. Direct Drive for everyone.
Introducing the official Direct Drive Wheel for Gran Turismo®. Combining PlayStation®5 console performance with FANATEC® Direct Drive technology for the smoothest and most dynamic force feedback sensations.
TECHNOLOGY REVOLUTION.
In 2001, Gran Turismo™ 3 introduced breakthrough force feedback technology to PlayStation®. Developed simultaneously with the CSL DD, it is once again a Gran Turismo wheel which introduces next-generation force-feedback technology to the mass market: Direct Drive.
ONCE YOU FEEL IT, THERE'S NO GOING BACK.
When the steering wheel is directly mounted to the motor shaft, there's no belt or gear drive to dilute the force feedback effects. Direct Drive is the clear choice of all professional drivers and enthusiast sim racers, and it's now available to a broader audience.
Torque to the hands.
The 100% custom motor was developed in Germany specifically for sim racing. It delivers sensational performance thanks to patented FluxBarrier technology, communicating the nuances of force feedback detail to your hands with remarkable clarity.
INCREDIBLE PERFORMANCE.
The efficiency of the Gran Turismo DD Pro motor technology means dynamic force-feedback performance is contained in a small footprint. Low rotational mass of the internal components, including a carbon fibre-reinforced steering axis, results in optimal responsiveness and acceleration..
UP TO 8 NM OF TORQUE.
Standard peak torque is 5 Nm, with the Boost Kit 180 (sold separately) unlocking the full 8 Nm. This high level of torque can be sustained without the need for active cooling, with the extruded and CNC-machined aluminium casing acting as the structural chassis as well as the heatsink
Steering wheel designed by Polyphony Digital especially for Gran Turismo.
The steering wheel for Gran Turismo DD Pro provides the perfect interface between you and the game. Full Fanatec SDK support ensures compatibility out of the box for all major racing games.
DESIGNED FOR GRAN TURISMO.
The white OLED display and diffused RevLED strip offers useful visual information while driving and operating the Fanatec Tuning Menu. A unique array of four 5-way directional sticks sit alongside the familiar PlayStation® inputs.
COMPACT AND RESPONSIVE.
Built for comfort and response, the 280 mm diameter and round shape is suitable for the wide variety of vehicles available in Gran Turismo. The tactile rubber grip and ergonomic paddle shifters mean you'll always feel in control
Strong, high-precision, two-pedal set.
This isn't your typical bundled pedal set. The pedals for Gran Turismo DD Pro are solidly built from steel, with precise and durable Hall sensors that allow you to stay in control with smooth throttle and brake inputs. Upgrade to a load cell brake (sold separately) and gain extra confidence to improve your lap times.
ADJUSTABLE AND UPGRADEABLE.
Upgrade the pedals with Tuning Kit, Clutch Kit, or Load Cell Kit (upgrade kits sold separately). The Tuning Kit adds metal pedal faces, and the Clutch Kit adds a third pedal at the lowest possible price. The Load Cell Kit is an alternative to the Clutch Kit, also providing a third pedal, while upgrading the brake and main electronics.
Gran Turismo DD Pro Wheel Base:
The official Direct Drive Wheel for Gran Turismo
Officially licensed for PlayStation®5 consoles and PlayStation®4 consoles
Direct-Drive system delivers instant, detailed force feedback
Linear, consistent performance (5 Nm peak torque)
Boost Kit 180 (

included

)

unlocks maximum strength (8 Nm peak torque)
Patented, exclusive FluxBarrier technology optimises motor efficiency and smoothness
Full Fanatec SDK support ensures compatibility out of the box for all major racing games
Standard Tuning Menu allows beginners to get started quickly without having to worry about settings
Advanced Tuning Menu allows enthusiasts to fine-tune the force feedback characteristics to suit their driving preferences
High-resolution (contactless) Hall-position-sensor, same as Podium Series
Steering axis made from carbon fibre-enhanced composite
Fanless: wheel base housing is made from aluminium (passive heat sink, core structural component) with composite end caps
Slip ring system (life-tested for thousands of hours) provides cable-free delivery of power and data between steering wheel and wheel base
Automotive-grade quick release, exchangeable
T-nut rail system on sides and bottom for easily adjustable hard-mounting
Table clamp included, supports 5 to 60 mm table thickness
Ports:

Power supply
USB-C to console / PC
Shifter 1
Shifter 2 (Sequential only)
Pedals
Handbrake

Front-mounted threaded inserts for Fanatec accessories (e.g. ClubSport Static Shifter Paddles, available separately). Not intended for front-mounting the wheel base to a sim racing chassis/cockpit.
Steering wheel for Gran Turismo DD Pro:
Designed by Polyphony Digital
Tactile rubber grip with blue centre stripe
Compact 280 mm diameter and light weight for crisp response
Diffused RevLED strip (yellow, red, and blue LEDs)
White OLED display for Tuning Menu access and telemetry output (where supported)
5-way directional stick for menu navigation
Four additional 5-way directional sticks
Ergonomic shifter paddles
11 buttons optimised for the PlayStation® interface
Fiberglass-reinforced plastic construction
Exchangeable QR1 Lite Wheel-Side quick release system
Pedals for Gran Turismo DD Pro:
Two-pedal set (throttle and brake), upgradeable to three pedals (upgrade kits sold separately)
All-metal construction (excluding pedal faces). Pedals are made from heavy steel, which helps to prevent the set from sliding on the floor (if not hard-mounted to a rig)
Optional anodised aluminium pedal plates (CSL Pedals Tuning Kit, sold separately)
Contactless Hall sensors (12-bit) on both brake and throttle for high precision and durability
Brake pedal spring is stiffer than throttle pedal spring, PU foam damper adds additional resistance for progressive braking feel
Upgrade to a three-pedal configuration with Clutch Kit or Load Cell Kit (sold separately)

CSL Pedals Clutch Kit provides a third pedal for the lowest price
CSL Pedals Load Cell Kit also provides a third pedal, and upgrades the brake and electronics

Pedal position can be adjusted sideways along heel rest
Height-adjustable pedal faces
Modular design means inverted mounting to a rig is possible
Vertical rear plates allow pedals to be easily braced against a wall or other vertical surface
Pearl chrome plating on pedal bases and arms
Black powder coating on heel rest
Pedals connect directly to Gran Turismo DD Pro Wheel Base
---
Peripherals
The Gran Turismo DD Pro Wheel Base is compatible with:
All Fanatec Podium Steering Wheels
All Fanatec ClubSport Steering Wheels
All Fanatec CSL Steering Wheels
All Fanatec Pedals (adapter cables might be required on pedals without RJ12 connection)
All Fanatec Shifters
Fanatec ClubSport Handbrake
All Fanatec Cockpits
ClubSport Table Clamp V2
Podium Mounting Brackets (the Gran Turismo DD Pro includes M6 T-nuts for side-mounting; the Podium Mounting Brackets require the use of M6 bolts and washers)
Please note: Compatibility with all peripherals is tested by Fanatec, but not tested nor endorsed by Sony Interactive Entertainment Inc.
The steering wheel for Gran Turismo DD Pro is compatible with:
Gran Turismo DD Pro wheel base
CSL DD
All Podium Wheel Bases
ClubSport Wheel Base V2 (without four additional D-sticks)
ClubSport Wheel Base V2.5
CSL Elite Wheel Base V1 / V1.1 (without four additional D-sticks)
CSL Elite Wheel Base +
Note: The steering wheel for Gran Turismo DD Pro does NOT enable PlayStation® compatibility when used with a non-PlayStation-licensed wheel base. A PlayStation-licensed wheel base (such as the Gran Turismo DD Pro Wheel Base) is required for use on PlayStation®4 and PlayStation®5.
The pedals for Gran Turismo DD Pro is compatible with:
CSR / CSR Elite Wheel Base
All CSL Elite Wheel Bases
All ClubSport Wheel Bases
All Podium Wheel Bases
GT DD Pro Wheel Base
CSL DD Wheel Base
Please refer to the Gran Turismo DD Pro manual for full pedal compatibility information
WHAT'S INCLUDED
Gran Turismo DD Pro direct drive wheel base
Steering wheel for Gran Turismo DD Pro
Pedals for Gran Turismo DD Pro (two-pedal set)
Table clamp
90W power supply (regional)

4x T-nuts for rail mount system

USB cable (Type-C to Type-A)
RJ12 connection cable for pedals
Pedal spacers for hard-mounting
Torx Key
Quick Guide