Orion2 HOTAS F-16EX WINWING - Disponível em Pre-Order
Frete grátis
Orion2 HOTAS F-16EX WINWING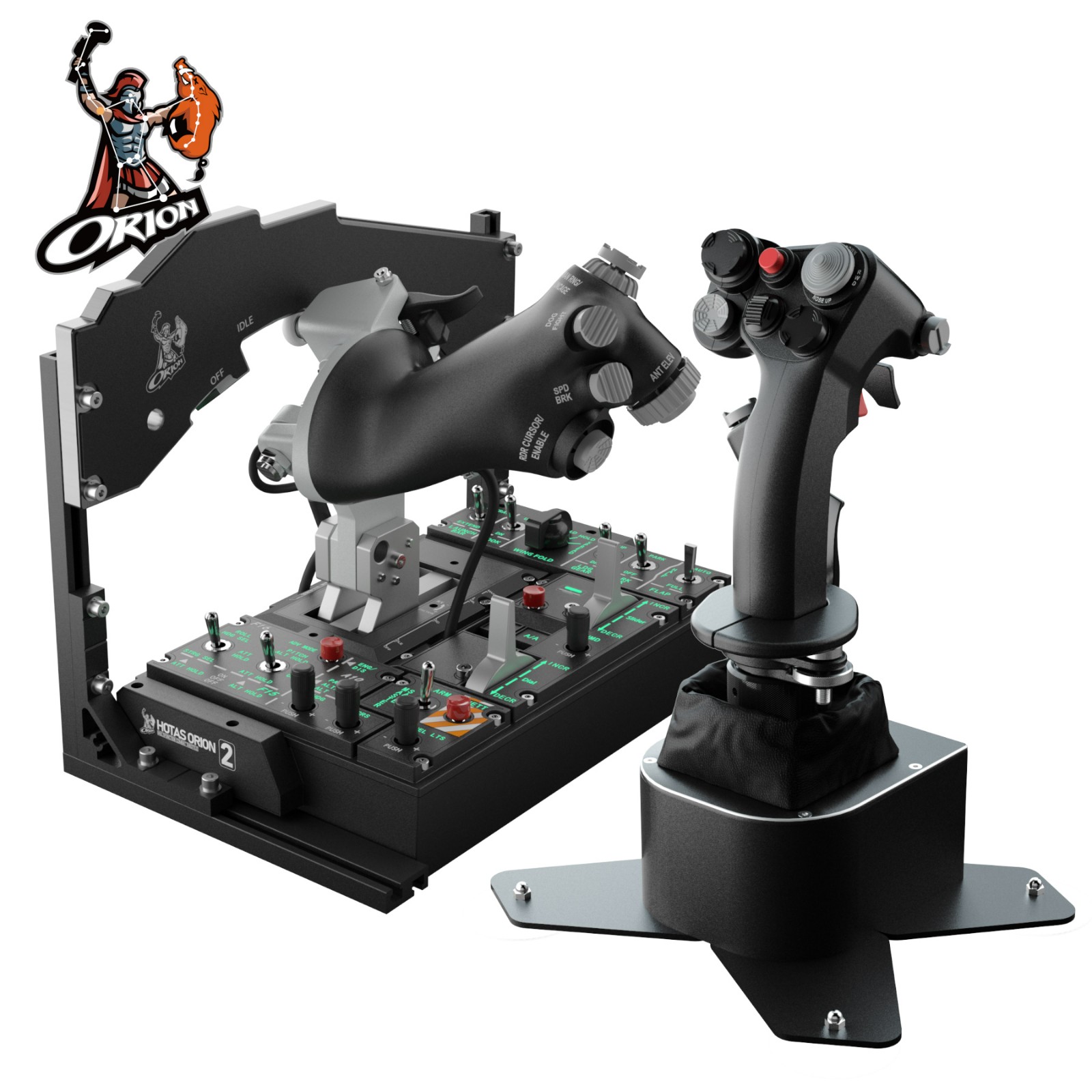 WINWING Orion HOTAS F-16EX is a TOP TIER class of sim gear, focused for desktop use.
All Grips/Handles are manufactured with what we consider low-inertia ALUMINIUM , which means they are strong but very light. Light enough that your slightest movements feel fluid and not heavy.
All high stressed structures of both joystick and throttle bases are constructed of aluminium and SU304 stainless steel. Our desire was to provide a solid design that would endure a very long service life.
All internal boards, chipsets, Buttons, Switches have been upgraded, using one of best, most reliable, Top Tier component supplier on the planet. Our ultimate goal is to try to eliminate component failures and increase the life of all of our products.
WINWING Orion JOYSTICK BASE
99% Metal construct(Aluminum construction +Stainless steel CAM/AXIS and other machining parts).

Hall sensor for both X/Y axis.

Featuring a 20°+20° deflection angle from the center

Perfect for desk use/mounted setups with extensions/Cockpit/Game chair.

Ergonomic grip with adjustable angle.(up to 15 degrees to the left) Perfect fit for center-stick/side-stick setup.

Swappable grips .
Follow features are NOT EXIST on Orion Joystick base:
Center Stop Device(CSD) for ZERO DEAD ZONE.

Adjustable damping for X and Y axis.

Swappable springs and CAMs.(More CAMs Available in future)

Two springs load position for every axis.(Could load 1-4 springs for each axis).
WINWING Orion 2 THROTTLE BASE
95% Metal construct for core structure(Aluminum construction +Stainless steel AXIS and other machining parts).

Realistic cover panel.

High resolution Hall sensor for both L/R throttle axis.

Friction adjust lever(By tools).

Adjustable back-light.

Perfect for mounted/Cockpit/Game chairs setups.

Swappable for Single/Dual Engine Handles .

2 x Hall sensor for rotary axis.

4 x ON-ON Buttons.

4 x ON-OFF-ON Buttons.

3 x Push Buttons(Single Auto Center).

1 x 3 Position Rotary Switch with Push button.

4 x Encoder with Push button.

2 x Push Button with LED Indicator(AA/AG).
WINWING F/A-18C JOYSTICK GRIP
Aluminum made construction and Trigger.

5 x 4-Way Hat (+ Push).

1 x 8-Way Hat (+ Push).

4x AXIS.(2x HALL 16bit sensor)

11x Push Button.
WINWING F/A-18C THROTTLE HANDLES
Aluminum made construction.

2 x 4-Way Hat (+ Push).

2x 3 Position Button.

4x Axis(1x HALL 16bit sensor).

2x Quick Reaction Flat press button.

1x Encoder.
Extension and Z Axis are not recommend to Orion HOTAS.
** Prazo de Entrega de 25 a 45 dias úteis.