KIT GT-MAX32 PRIME GRAND TURISMO DD PREMIUM - PARA PC - LANÇAMENTO!!
KIT GT-MAX32 PRIME GRAND TURISMO DD PREMIUM - PARA PS4/PS5/PC - LANÇAMENTO!!
KIT COMPOSTO DE : WHEELBASE GRAND TURISMO DD PRO (8NM) + VOLANTE GT-MAX32 PRIME (GOMEZ SIM INDUSTRIES) + PEDAL V3 (COM LOADCELL)
VOLANTE GT-MAX32 PRIME (GOMEZ SIM INDUSTRIES)
GT-MAX 32 "Prime"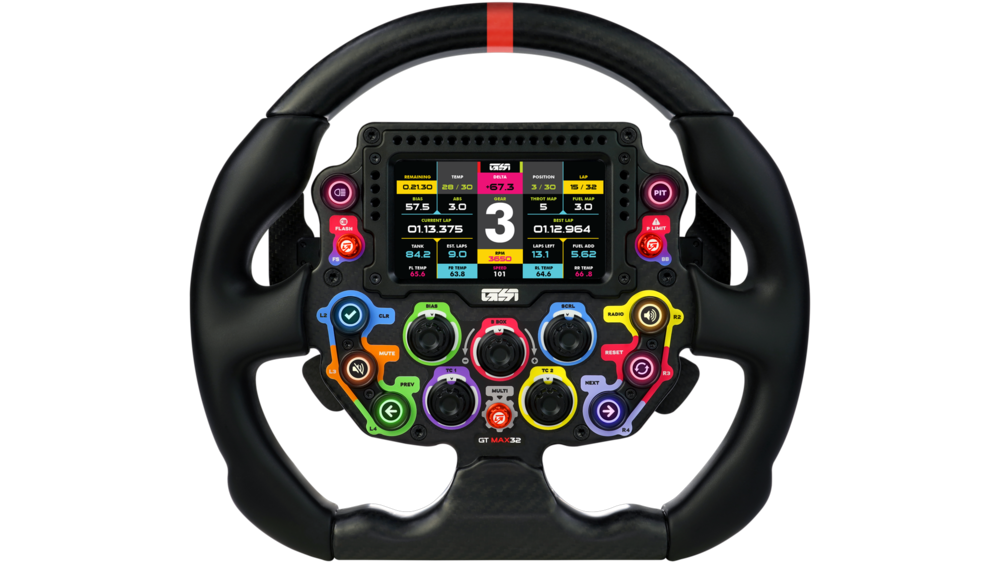 The GSI GT-MAX 32 is the most advanced sim racing steering wheel we have made to date. It takes everything we've learned and elevates to a new level of technology including features, construction and assembly. A first for sim racing steering wheels, the GT-MAX 32 is made from a continuous molded carbon footprint. The face and the outer circular rim are a single carbon fiber unit with handles overmolded in silicone for maximum grip and strength all while reducing weight.
The GT-MAX 32 also brings programmable LED buttons made from our own polycarbonate formula to eliminate that "plastic" feel and stop LED hotspots from appearing on the button face. With a 500 gram operating force for that extreme tactile click these new buttons are a step above.
Keeping with our focus on making steering wheels specifically for sim racers we have chosen to have three 7 way funky switches, two located at the reach of the left and right thumbs, and our classic center section funky.
The other 4 LED under lit rotaries are a new and more tactile component with 5 way functionality. Left rotation, right rotation, button press, button press + turn right and button press + turn left. Giving you the maximum flexibility to change modes on the fly mid race.
The new screen is a 5 inch Glossy LED Touchscreen as standard that can be used with all the top sim racing softwares on the market. The resolution and clarity are a step higher while the power consumption is lower than ever before.
Finally the RPM LEDs are now 16 + 8. 16 across the top and 4 on each side for ABS and other functions. We will be providing custom profiles along with an entirely new dash design that features a clear and concise delivery of the most important information during your races.
Just looking at the GT-MAX 32 you can see it's like nothing else, a cut above the rest and it performs just as brilliantly.
Features Include:
5 inch High-Res LED Touchscreen
4 + 16 + 4 RGB LED Rev Lights
One-Piece Carbon Fiber Construction
Overmolded Silicone Handles
6061 Aluminum Body / Components
8 Momentary RGB LED Push Buttons (500 gram force)
5 Backlit RGB LED Push-Button Rotary Encoders with 5-way functionally
3 Seven Way Funky Switches
GSI "CEMS N52" V2 Shifters
GSI "HSE" Dual Clutches (Optional)
GSI "Spec 3" Coiled Cable
320mm Wheel Diameter
70mm Thread Bolt Pattern
Extra Label Sheets
Compatibility:
Simucube
VRS
Simagic
Accuforce (via Accuforce QR)
Fanatec DD Bases (via Fanatec Podium Hub)
Recommended Connections:
GSI Coiled Cable → Powered USB Hub → PC
GSI Coiled Cable → Active USB Repeater → PC
Feel everything.
Introducing the official Direct Drive Wheel Base for Gran Turismo®. Combining PlayStation®5 console performance with FANATEC® Direct Drive technology for the smoothest and most dynamic force feedback sensations.
TECHNOLOGY REVOLUTION.
In 2001, Gran Turismo™ 3 introduced breakthrough force feedback technology to PlayStation®. Developed simultaneously with the CSL DD, it is once again a Gran Turismo wheel base which introduces next-generation force-feedback technology to the mass market: Direct Drive.
ONCE YOU FEEL IT, THERE'S NO GOING BACK.
When the steering wheel is directly mounted to the motor shaft, there's no belt or gear drive to dilute the force feedback effects. Direct Drive is the clear choice of all professional drivers and enthusiast sim racers, and it's now available to a broader audience.
Maximum strength.
The Gran Turismo DD Pro Wheel Base package includes the Boost Kit 180, a powerful 180W power supply that unlocks the full performance of the direct drive motor.
8 NM PEAK TORQUE.
Using the included Boost Kit 180, the Gran Turismo DD Pro Wheel Base operates in its 8 Nm mode. This provides much stronger feedback, and as a result, you'll feel the subtle cues more clearly too.
SMALL SIZE. HUGE PERFORMANCE.
This high level of torque can be sustained without the need for active cooling, with the extruded and CNC-machined aluminium casing acting as the structural chassis as well as the heatsink.
Torque to the hands.
The 100% custom motor was developed in Germany specifically for sim racing. It delivers sensational performance thanks to patented FluxBarrier technology, communicating the nuances of force feedback detail to your hands with remarkable clarity.
EFFICIENT AND RESPONSIVE.
Our patented FluxBarrier technology means incredible force-feedback performance is contained in a small footprint. Low rotational mass of the internal components, including a carbon fibre-reinforced steering axis, results in optimal responsiveness and acceleration.
ADVANCED FILTERS.
Enjoy balanced force feedback with the Standard Tuning Menu without worrying about settings. The Advanced Tuning Menu unlocks all the filters, so you can fine-tune the strength, smoothness, and mechanical feel of the force feedback, even while driving.
FURTHER LINKS
Formula V2.5. Raise your game.

The ClubSport Steering Wheel Formula V2.5 is the perfect size and shape for all formula-style and single-seater race cars.

PREMIUM MATERIALS

Retaining the shape of the iconic 270 mm ClubSport Formula wheel, the Formula V2.5 uses a 5 mm-thick, solid carbon fibre front plate, aluminium shifter modules, and smooth perforated leather grips.

Loaded with Fanatec innovation.

Advanced multi-colour LED bars, OLED display, more input options than ever. And now with magnetic shifters as standard.

CRISP SHIFTING

Thanks to the pre-installed, CNC-machined aluminium ClubSport Magnetic Paddle Module, you'll shift gears with confidence every time. The wheel is packed with 11 buttons, 12-way multi-position switches, thumb encoders, toggle switches; the list goes on. Up to 67 functions of a game can be adjusted directly.

MORE THAN JUST EYE-CATCHING.

The spectacular light show is also highly functional. RevLEDs with nine multi-colour LEDs can show motor RPM and optimal shifting point, and the two flag LED bars (FlagLEDs) with three multi-colour LEDs can indicate tyre slip, flag warnings, pit limiter, and more.

ADD F1-STYLE CLUTCH PADDLES.

The ClubSport Steering Wheel Formula V2.5 can be upgraded to the Podium Advanced Paddle Module, which adds a dual clutch paddle system and two pairs of magnetic paddles with 3 mm-thick carbon fibre plates.

READY FOR THE FUTURE.

The exchangeable QR1 Wheel-Side (ClubSport Quick Release Adapter) means the wheel can be upgraded easily to the next-generation QR2 system (coming soon).

Tecnologia Avançada.


Nada o deixará mais rápido do que um bom conjunto de pedais. Estamos usando a tecnologia mais recente e avançada para oferecer a você essa vantagem competitiva.

LOAD CELL AJUSTÁVEL 90 KG

A célula de carga customizada é extremamente durável e muito mais precisa do que a geração anterior. Você pode aplicar uma pressão forte e realista e controlar com precisão o freio com a tensão muscular, como em um carro real.

NOVAS SUPERFÍCIES (PLATES).

As novas placas do pedal em forma de D e as novas extensões do pedal permitem o ajuste do ângulo da placa do pedal e do ângulo de todo o braço do pedal

.

PROJETO COMPROVADO.

A terceira geração de pedais ClubSport ainda usa o design simples, mas comprovado de seus lendários predecessores

MAXIMA AJUSTABILIDADE.

Existem inúmeras maneiras de ajustar esses pedais ergonomicamente de acordo com seu estilo de corrida e preferências.

SENSORES SEM CONTATO.

A eletrônica foi completamente revisada e os sensores magnéticos Hall do acelerador e da embreagem apresentam 4x a resolução dos pedais V2 da geração anterior. Cada eixo pode ser calibrado através do volante ou usando o driver.

FREIO AJUSTÁVEL.

O design completamente novo do pedal de freio permite o ajuste de rigidez e deslocamento sem o uso de quaisquer ferramentas